I was making a list in Madison of what I want to eat in Bangkok and I was also thinking about a welcome home meal with my mom after 9 months away. Here's what we ate.
My mom took us to our favorite place near our house and of course it is Thai food. From what you see on my photo, Tom Yum is a must to order. My mom ordered 1 big bowl for Kevin only. She knows that he loves Tom Yum but it's pretty spicy for his stomach after being away from spicy food for a while but he finished it anyway (It is hard to say NO to Tom Yum!!).
Next is Nam Prik. It is a kind of Thai chilli paste. As you can see from the photo, it comes with a variety of vegetables that you can dip in Nam Prik such as Turmeric, cucumber, long green bean, deep fried eggplant, bitter cucumber etc.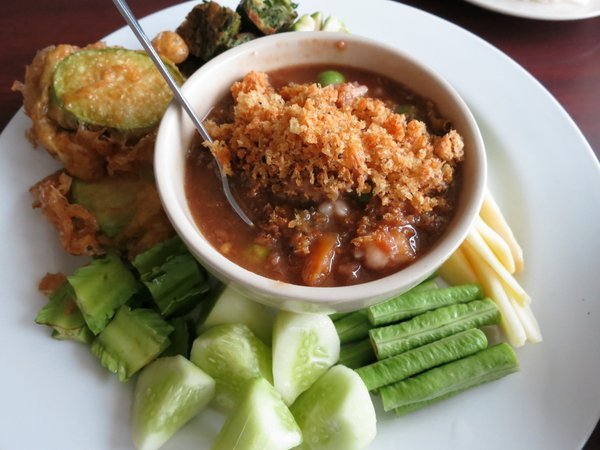 Kaeng Ped moo prik kee nuu. This is a red curry and they use small hot chillies to make you sweat!
After that I decided to order vegetables. My favorite is Pak Boong Fai Daeng (stir fried morning glory) It is an easy dish that you can find in almost every restaurant or even street food cart in Bangkok.
I never thought that I would miss my family and Thai food this much. My mom and my sister went to pick us up at the airport even though it was a late flight. I forgot to mention that she is almost 70!!! Gees I never thought about her age and it is a wake up call for me that she is not gonna be around forever. Now I understood the meaning of no place like home.