วันนี้อยากมาแบ่งปันประสบการณ์ ตามล่าหาเมนูอร่อยตาม brew pub ในแถบ Midwest
I have been to more than hundreds breweries and brew pubs in Wisconsin, Michigan, and Minnesota for the past 4 years. Don't get me wrong, I'm not an alcoholic 🙂 My husband is a writer of awesome guide books; Wisconsin's Best Beer Guide and Michigan's Best Beer Guide. He also has another up coming book, Minnesota's Best beer guide, for 2015. Lucky me to have a chance to travel to those places. Even though I'm not a beer fan but I'm a food lover 🙂
จากประสบการณ์ที่ได้ไปตาม brew pub มาเป็นร้อยที่ ทั้งใน Wisconsin,  Michigan,  Minnesota ไม่ได้เป็น alcoholic นะคะ 🙂 สาเหตุที่ได้ไปเพราะสามีเป็นนักเขียน เขียนหนังสือ guide book เกี่ยวกับ brew pub ที่brew เบียร์ของทั้งสามรัฐ ก็เป็นอานิสงค์ให้เรา ผู้ติดตามและเป็นตากล้องในตัว ได้ไปเปิดหูเปิดตา ดูว่าเค้า brew เบียร์กันยังไง แถมต้องไม่พลาดเรื่องเมนูอร่อยเพราะเราไม่ดื่มเบียร์ อิอิ
Me holding my husband's guide book "Wisconsin's Best Beer Guide" and another hand holding WI beer 🙂
Another beer guide by my husband "Michigan's Best Beer Guide" 🙂
The 1st state that we went is my 2nd home, Wisconsin, of course! We went to Michigan 2 years ago and Minnesota is happening right now in 2014. The popular menu at most of the breweries or brew pubs is sandwich because people here love eating sandwich. I like it too because it has many choices of meat for me to eat with; ham, turkey, chicken, or even beef. I think it's like Thai, we love eating rice.
รัฐแรกที่ไป แน่นอนคือ วิสคอนซิน ส่วนรัฐมิชิแกนได้ไปมาเมื่อ 2 ปีก่อน ส่วนปี 2014 นี้คือรัฐมินนิโซต้า อาหารส่วนใหญ่จะเหมือนๆกัน คือ แซนวิช แหม เราจะบ่นก็ไม่ได้เพราะคนอเมริกันชอบทานแซนวิชเหมือนๆกับที่คนไทยชอบทานข้าวนั่นแหละ แซนวิชส่วนใหญ่จะไม่พ้น แฮม, ไก่งวง, อกไก่, เนื้อวัว, BLT แต่เค้าก็มีส่วนประกอบอย่างอื่นใส่เพิ่มเข้าไปในแซนวิชด้วย โดยเฉพาะชีส!
Another popular menu is hamburger. I remembered when I move here in year 2010, I told my husband that I eat hamburger but can I have pork instead of beef? He told me with a quiet voice that they use only beef for hamburger in the U.S., unlike in Asia that we use pork for hamburger because many Asian don't eat beef.
อีกเมนูยอดนิยมของคนที่คนนี่คือ Hamburger ตอนย้ายมาที่นี่ใหม่ๆบอกสามีว่าชั้นทาน hamburger ได้แต่ขอเป็นหมูนะ สามีหันมามองหน้าแล้วกระซิบว่า hamburger คือใช้เนื้อวัวเท่านั้น ไม่เหมือนในเอเซียที่คนส่วนมากไม่ทานเนื้อวัว ถึงบางอ้อ ดีนะที่ถามก่อนสั่ง ไม่งั้นอายเค้าแย่
Many brew pubs or breweries have many interesting dishes on their menu that I haven't seen in other places. Here are my favorite food hunter menu!
แต่มีหลาย brew pub ที่ไปมาแล้วเค้ามีเมนูที่แปลกแตกต่างจากอาหารอเมริกัน ไปดูกันดีกว่า อาหาร brew pub หรือ brewery ของที่นี่ หน้าตาน่าทานขนาดไหน
1. Signature dish from Wisconsin " Deep fried Cheese curds"
2.Chicken Wings is one of the popular dishes in many places. This one is spicy chicken wings.
3. Home-made BRICK oven pizza from Harmony Brewing Company, Michigan. It was very delicious unlike pizza from the chain company.
4. Cranberry bread with Italian sausages from one of the breweries in Wisconsin. The sausages were good and it was a huge portion!
5. Ham sandwich is another common menu that you can see from every place.
6. This is one of the best ribs that I ever had in my life. It's Asian style and the meat melted in my mouth! It is from Falling Down Beer Co., Michigan.
7. Chicken sandwich is another menu that I always order here but I prefer grilled chicken than a deep fried chicken.
8. Macaroni with pesto sauce from New Holland Brewing company, Michigan. This is quite a signature dish for me because it's a rare menu at the breweries or brew pubs.
9. Spicy chicken nuggets from Canal Park Brewing Company Minnesota. I just want to try to see the different from nuggets at the McDonald. The different is they use real chicken, bigger piece, better flavor, and much better quality 🙂
10. Poutine from Canal Park Brewing company, Minnesota 🙂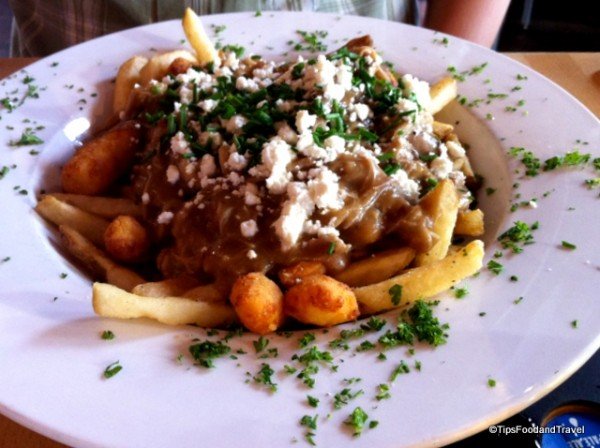 11. Prime Rib sandwich from Appleton Beer Factory,  Wisconsin. This place has amazing food. The owner's mother is a chef and she does a really fantastic job. I love every dish that I tried here.
12. Beer & Bacon Mac & Cheese sandwich from Appleton Beer Factory.
13. Seasoned Pickle chips from Appleton Beer Factory.
14. From New Holland Brewing company in Michigan. It is Pepperoni Pinwheels.