Italy was one of my dream destinations and my dream came true last year.
My husband and I went to 7 cities plus the Vatican in 15 days. We flew from Madison to Detroit and from Detroit to Rome, then to Orvieto.
We chose to stay at a nice small town first because we want to keep the best at the end. You can do 1 day trip to Orvieto but we chose to stay 1 night.
You have to take a tram up the hill to Orvieto's town. The ticket was only €2.60 for 2 people.
We love Orvieto but it's good enough for 1 night for our 15 days trip. It has a beautiful church, Il Duomo and we found one of the best pasta meals.
Too bad the front part of Il Duomo was under construction but it is still beautiful. The ticket to go in was €3 per person
The famous sculpture by Michelangelo.
Some fun activity for kids in Orvieto.
At night we went to have dinner at L'oste Del Re Corso Cavour in Orvieto. One of the best meals in Italy!
Nothing can beat fresh pasta! This is Pappardelle with wild boar. It cost €9.
This is Umbrichelli with white ragu. It cost €9 too.
Narrow street in Orvieto. We were looking at Il Duomo church.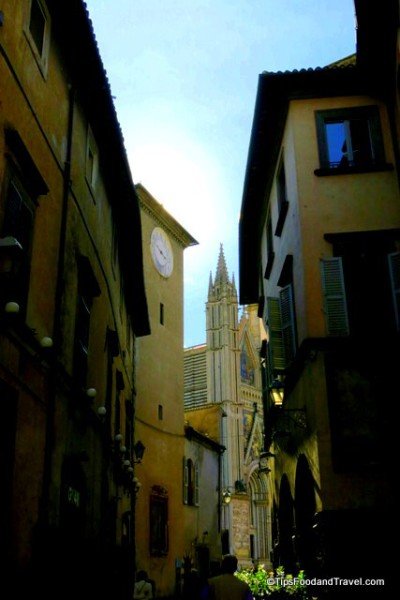 We stopped at a small cafe the next day for Italian breakfast which serve only pastry and coffee.