Sushi in Madison, well, who can think that it has more than 1 or 2 restaurants but we have more than 6 restaurants (as far as I know). I'm not a big fan of sushi but since I tried sushi at Restaurant Muramoto, it changed my mind! We went to the Restaurant Muramoto many times because of food quality, taste, and the atmosphere.
This year Restaurant Muramoto has a special offer "All you can eat sushi $25 on Sunday, Monday, and Tuesday". Of course, it comes with rules but if you are a sushi lover, I think it's worth it.
I started with Nigiri. The funny thing is I was hungry and didn't think that it comes in 2 pieces per order. I ordered Tuna, Octopus, Shrimp and my favorite Eel!  It came 10 pieces! Oops but I finished it anyway!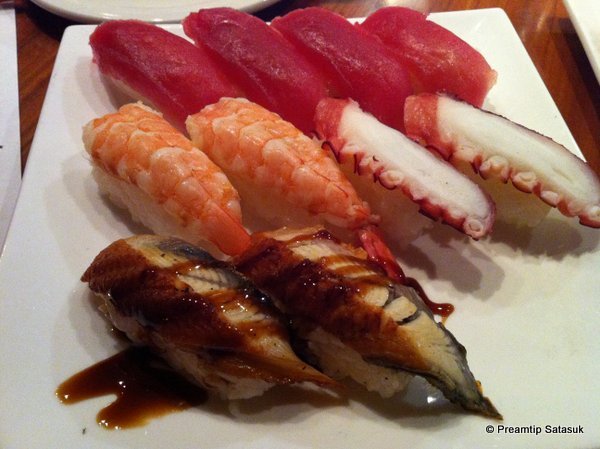 My next round is rolls. I chose DRAGON because I love tempura.  It has shrimp tempura, eel, avocado, eel sauce and mayo. It was super yummy  😉
Meanwhile, I also sneaked some from my friend's plate. They ordered TOKYO PICNIC; made from Crispy pork, Asian slaw, and Baconnaise. I like it because they sprinkle it with sesame seeds and the most important is BACON!!!!. Who can say NO to bacon?? 🙂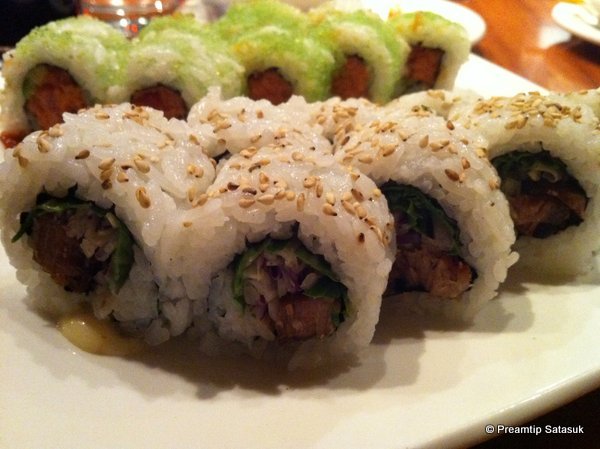 Now, it was my turn to order my dish. I like tuna and I saw SPICY TUNA um…..spicy and tuna… why not, right? It has Avocado, Wasabi Tobikko, Masago mayo, spicy sauce, and Eel sauce. My friends and I voted SPICY TUNA to be our favorite dish. See from my photo and you will know why we love SPICY TUNA.
And last but not least, our friends decided to challenge their stomach with the hottest special rolls in the restaurant, DANTE, it has Hamachi, Cuke, Greens, and Habanero Tobikko. For me as an Asian, Habanero sauce is hot enough but the Hamachi makes it hotter and it burnt my tongue, so I ended up with a piece of Oshinko, pickled diakon roll, and Miso soup. Don't even ask about my friends who don't really eat spicy food. All I can say is it was their first and will be their last time to order DANTE 🙂